Our group division company is a leading manufacturer of Sodium Sulphite, Sodium MetaBiSulphite and SodiumBiSulphite. We have ready stock available at our godown at Mumbai, Kolkata, Chennai, Gandhidham, Visakhapatnam, FUJAIRAH, Dubai, Sharjah.
Product Application:
Sodium sulfite is primarily used in the pulp and paper industry.
 It is used in water treatment as an oxygen scavenger agent, to treat water being fed to steam boilers to avoid corrosion problems,
In the photographic industry to protect developer solutions from oxidation and (as hypo clear solution) to wash fixer (sodium thiosulfate) from film and photo-paper emulsions.
In textile industry as a bleaching, desulfurizing and dechlorinating agent and in the leather trade for the sulfitization of tanning extracts. 
It is used in chemical manufacturing as a sulfonation and sulfomethylation agent. 
It is used in the production of sodium thiosulfate. It is used in other applications, including froth flotation of ores, oil recovery, food preservatives, and making dyes.
Product Technical Specification:
ANALYTICAL PROPERTIES

PHOTO GRADE Sodium Sulphite

SODIUM SULPHITE WT%

98.5 MIN

SODIUM SULPHATE WT%

1.5 MAX

SODIUM CHLORIDE WT%

0.10 MAX

SODIUM CARBONATE WT%

0.1 MAX

MOISTURE %

0.05 MAX

INSOLUBLES %

0.1 MAX

IRON(Fe) PPM

5 MAX

HEAVY METALS(Pb) PPM 

10 MAX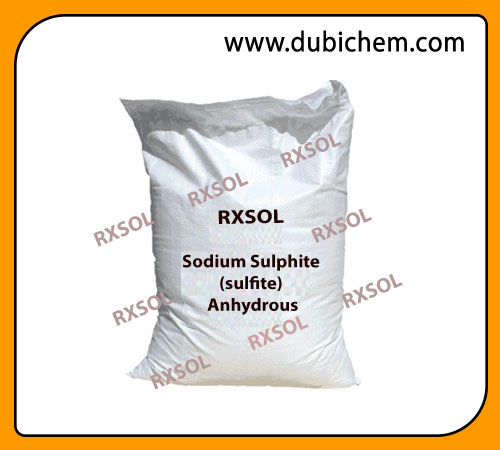 Also we are keeping ready stock of these products :
SODIUM SULPHATE 99% WHITE POWDER CRYSTAL 50 KG BAG
PHOSPHORIC ACID 85% WHITE LIQUID POWDER
Caustic Soda Lye
HYDROGEN PEROXIDE 50% LIQUID 35 KG CARBOY PACK
CITRIC ACID 99% POWDER
caustic soda flakes
BLEACHING POWDER
SODIUM NITRATE
ACETIC ACID
Free Delivery / Supply Locations :
Oman, Bahrain, Abu Dhabi, Ajman, Al Ain, Dubai, Ras Al-Khaimah, Ras al Khaimah, Fujairah, Sharjah, Umm Al Quwain, Fujairah, Ruwais, Mina (Port) Zayed, Khalifa Port, Kizad, Port Rashid, Jebel Ali Port, DP WORLD, Jebel Ali Free Zone, Khor Fakkan Container Terminal, Port Rashid, Jebel Ali Port, Mina Kalid Port, Khor Fhakan Port ( Khawr Fakkan, Khawr al-Fakkan ), Sharjah Creek, Ajman, Port of Hamriyah, Mina Zayed Port, Mussafah port, Khalifa Port, Umm al-Nar Port, Um Al Quwain Port, Saqr Port, Port of Fujairah, Dibba Port, Jebel Dhanna, Mina Al Hamriya, Mina Rashid, All United Arab Emirates