Available Packing Sizes:
50 ml, 100, 250, 500 ML bottle available. Discount is applicable only for purchase of either more then 1 products.
Excellent quality Aceto Carmine Plant Culture tested supplier. Our company engaged in trading and supplying excellent quality Textile Chemicals, Industrial Chemicals, Laboratory Chemicals, Inorganic Chemicals, Research Microscopes, Permanent Slides and Biological Models, Biological Specimen Models, Science Instruments etc...
Product Dose:
To stain bulb chromosomes, a 1% band-aid of bittersweet in 45% acerb acerbic is used. Freshly anchored actual is transferred into 1% acetocarmine for at atomic 30 min and again analyzed by the annihilate method. If the actual was anchored for a best time, it requires a best staining time (up to several days) to ability acceptable contrast. If the actual is to be analyzed immediately, fix and stain the tissue in one footfall application the 1% acetocarmine solution.
Chromosome annihilate technique
Drain off the fixative and abode the roots in 1% acetocarmine for 1 to 3 h. Calefaction until the acetocarmine begins to boil. Cut off the basis cap with a razor brand and clasp the meristematic tissue out with a lancet needle. Add a bead of acetocarmine or 45% acerb acid. Abode a razor brand (double-edged) to one ancillary and add a awning slip. Tap the awning blooper acclaim with the aggravate end of a probe. Accelerate the razor brand out and calefaction to a point just below baking (steam will anatomy below the slide). Then, bound annihilate with deride or forefinger amid two layers of clarify paper. Be accurate to not move the awning blooper at this point.
Product Technical Specification:
Risk and Safety Information
R-Phrase(s) : 11
S-Phrase(s) : 7-16
Storage Temperature(°C) : Store below 30°C

Transport Information
UN No. : 1170
Class : 3
Packaging Group : 2
Marine Pollutant : No
ADR/RID : 1170 3/PG 2
IMDG : 1170 3/PG 2
IATA : 1170 3/PG 2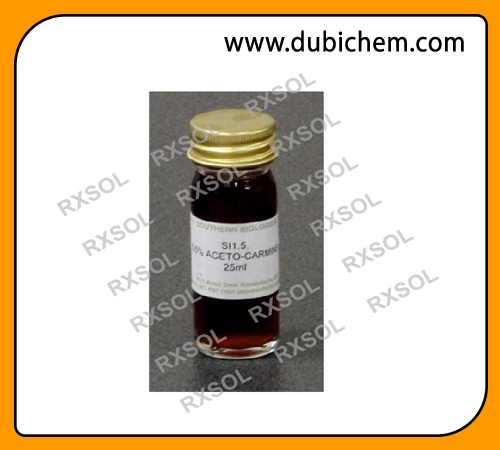 Free Delivery / Supply Locations :
Oman, Bahrain, Abu Dhabi, Ajman, Al Ain, Dubai, Ras Al-Khaimah, Ras al Khaimah, Fujairah, Sharjah, Umm Al Quwain, Fujairah, Ruwais, Mina (Port) Zayed, Khalifa Port, Kizad, Port Rashid, Jebel Ali Port, DP WORLD, Jebel Ali Free Zone, Khor Fakkan Container Terminal, Port Rashid, Jebel Ali Port, Mina Kalid Port, Khor Fhakan Port ( Khawr Fakkan, Khawr al-Fakkan ), Sharjah Creek, Ajman, Port of Hamriyah, Mina Zayed Port, Mussafah port, Khalifa Port, Umm al-Nar Port, Um Al Quwain Port, Saqr Port, Port of Fujairah, Dibba Port, Jebel Dhanna, Mina Al Hamriya, Mina Rashid, All United Arab Emirates