RXSOL Chlorinated Detergent  is a highly efficient, cost-effective, detergent which is designed for use in the food processing industry. It is a free rinsing, concentrated liquid cleaning detergent with chlorine that, when applied through a mechanical CIP system, provides excellent results on many hard to remove soils. RXSOL Chlorinated Detergent  is allowed for use as a cleaning agent in food processing plants on all stainless steel surfaces. RXSOL Chlorinated Detergent  is effective in the cleaning of dairy plants, seafood, meat, beverage and poultry plants.
Product Application:
RXSOL Chlorinated Detergent is formulated from an alkaline hypochlorite based chemical treatment. This highly "built" cleaning detergent is extremely effective for the removal of a diverse range of materials such as proteins and soil. RXSOL Chlorinated Detergent is a low foaming cleaning product proven to be hard water tolerant and suitable for use with soft metals. RXSOL Chlorinated Detergentis an ideal choice for use in CIP (Cleaning in Place) and power wash / spray wash systems.
Product Dose:
The dosage rate  will depend on the specific application and our technical consultants can advise on the ideal level of dosage and testing required for individual systems. Use water at ambient to 50 oC.
When cleaning milk tanks, trays or packing machines by CIP, wash at 40 – 50 oC for 10 – 20 minutes.
Rinse all surfaces thoroughly with clean water.
Do NOT allow neat product to contact soft metal surfaces.
Avoid mixing with solutions containing hypochlorite.
Manual Cleaning            0.5-1%                 5-10ml / litre of water
Foam Cleaning                1-2%                  10-20ml / litre of water
Product Note:
Benefit
High performance detergent for CIP cleaning food manufacturing facilities and production equipment
Suitable for use in food manufacturing premises
Low foaming chlorinated detergent that is suitable for food applications
Excellent soil removal
Very effective in the removal of protein
Hard water tolerant
Soft metal safe
Suitable for CIP and power washing / spray wash systems
Product Technical Specification:
Form        
Liquid
Colour
Clear / Yellow
Odour
Slight Chlorine
Odor Threshold
Not Applicable
pH
12.5  - 13.5
Boiling Point
100 °C / 212 °F
Flash Point
No Information Available
Evaporation Rate
 
Specific Gravity
1.3 - 1.35
Solubility
Soluble in water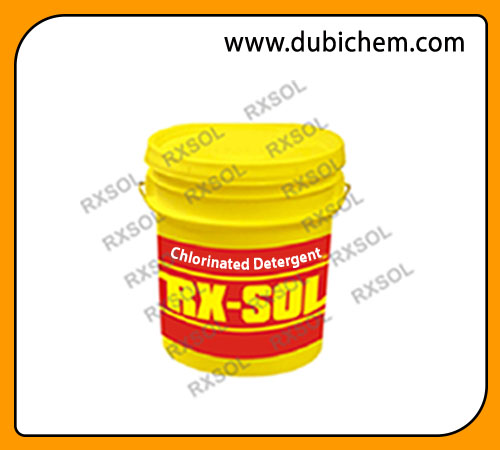 Free Delivery / Supply Locations :
Oman, Bahrain, Abu Dhabi, Ajman, Al Ain, Dubai, Ras Al-Khaimah, Ras al Khaimah, Fujairah, Sharjah, Umm Al Quwain, Fujairah, Ruwais, Mina (Port) Zayed, Khalifa Port, Kizad, Port Rashid, Jebel Ali Port, DP WORLD, Jebel Ali Free Zone, Khor Fakkan Container Terminal, Port Rashid, Jebel Ali Port, Mina Kalid Port, Khor Fhakan Port ( Khawr Fakkan, Khawr al-Fakkan ), Sharjah Creek, Ajman, Port of Hamriyah, Mina Zayed Port, Mussafah port, Khalifa Port, Umm al-Nar Port, Um Al Quwain Port, Saqr Port, Port of Fujairah, Dibba Port, Jebel Dhanna, Mina Al Hamriya, Mina Rashid, All United Arab Emirates