Available Packing Sizes:
Cutting Oil available in 25, 50 and 210 Ltr Drum
RXSOL CUTTING OIL is a special blend of solvents and oils, designed to assist in the operation of cutting threading or drilling metals. The product exhibit good cooling properties and oxidation stability. Because of it's clarity the operator can see the cutting interface more easily
RXSOL CUTTING OIL  gets right to the tip of the work by cooling and lubricating the cutting tool. With RXSOL CUTTING OIL  having a low viscosity it causes less drag on the cutting tools but still gives excellent lubrication to enable the tool to cut easily.
CHARACTERISTIC FEATURE :
Non- Corrosive
Suitable for Most Metals
Enhance Cooling Properties
Increase Long Tool Life
High Quality Oil Cools And Lubricates For Ferrous And Non-Ferrous
Product Application:
RXSOL CUTTING OIL  is non corrosive and is safe to use on most kinds of metals. The oil is recommended for a variety of cutting operations on ferrous and non-ferrous metals. It has been formulated using high quality refined base stocks
RXSOL CUTTING  can be used in all types of workshops, garages, mining industry, etc. on lathes, portable or bench drills, tapping tools etc.
Product Note:
RXSOL CUTTING OIL contains high lubricity additives that help provide a better finish and long tool life.
Product Technical Specification: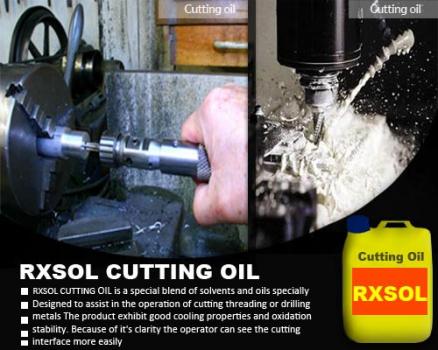 Cutting Oil manufacturer supplier distributor in Mumbai, Kandla, Kolkata, Vizag, Chennai, India, Fujairah, Dubai UAE, Muscat Oman, Kenya Africa. Get the best quality of Cutting Oil at a competitive price from us. We have ready stock of Cutting Oil in India, UAE Gulf, Oman, Kenya Africa. Contact us for bulk as well as small orders.
Free Delivery / Supply Locations :
Oman, Bahrain, Abu Dhabi, Ajman, Al Ain, Dubai, Ras Al-Khaimah, Ras al Khaimah, Fujairah, Sharjah, Umm Al Quwain, Fujairah, Ruwais, Mina (Port) Zayed, Khalifa Port, Kizad, Port Rashid, Jebel Ali Port, DP WORLD, Jebel Ali Free Zone, Khor Fakkan Container Terminal, Port Rashid, Jebel Ali Port, Mina Kalid Port, Khor Fhakan Port ( Khawr Fakkan, Khawr al-Fakkan ), Sharjah Creek, Ajman, Port of Hamriyah, Mina Zayed Port, Mussafah port, Khalifa Port, Umm al-Nar Port, Um Al Quwain Port, Saqr Port, Port of Fujairah, Dibba Port, Jebel Dhanna, Mina Al Hamriya, Mina Rashid, All United Arab Emirates