Available Packing Sizes:
65 Kgs Carbouy / 275 or 295 Kgs Polydrum / 1400 Kgs of IBC / 26000 Kgs of ISO Tank . Mail us for FACTORY sale price of HEDP.
Diethylene Triamine Penta Methylene Phosphonic Acid DTPMP has chelating and anti corrosion properties also Deflocculate or Disperse solid particles combined with its Temperature and Hydrolytic Stability makes it a versatile ingredient for applications requiring efficient Metal Ion (like Fe) Control.
Product Dose:
Popular in Cooling water treatment formulations. Soap / detergent & personal care product additive. 
Product Note:
DTPMPA is an Organophosphonate Compound exhibiting excellent Sequestration of metal ions at stoichiometric concentration and Threshold Inhibition of Metal Salt precipitation at sub-stoichiometric concentrations. 
Product Technical Specification:
CAS No: 15827-60-8.
MOLECULAR FORMULA: C9H28O15N3P5
Molecular Weight : 573
Chemical Name : Diethylene triamine penta (Methylene phosphonic acid)
CAS No. : 15827-60-8
Appearance : Brown transparent liquid / Amber aqueous solution
Active Content : 50% ± 1 % (as acid) 48.0-52.0 %
Density (20◦ C) 1.35-1.45 g/cm3
pH (1% solution) : Less than 2
Chlorides as HCl : 12 - 17 %
Iron Content (ppm) :
Solubility : Soluble in water 
Active acid Phosphorous acid (as PO33) 3.0 % max
Chloride (as CI-) 12-17 %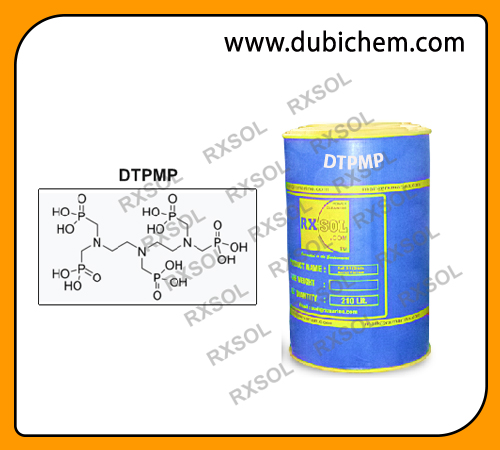 DTPMPA can be dissolved in acid solution and has excellent scale and corrosion inhibition and good thermal tolerance ability. DTPMPA can inhibit the
scale formation of carbonate, sulfate and phosphate. In alkaline medium  and at high temperature DTPMPA  resulting  better scale and corrosion inhibition effect. 
Oil field, Paints, pigments & paper Industries. Textile as peroxide bleach stabilizer & Leather Auxiliary Chemicals. DTPMPA can be used as scale and corrosion inhibitor in circulating cool water system and boiler water, and especially in alkali circulating cool water system without additional pH regulation, it can also be used in oilfield refill water, cool water and boiler water with high concentration of barium carbonate. When used
alone, little scale sediment is found even none of dispersant is used. can also be used as peroxide stabilizer, chelating agent in woven and dyeing industry, pigment dispersant, microelement's carrying agent in fertilizer and concrete modifier. In addition, it is used in papermaking, electroplating, acid cleaning and cosmetics.
Free Delivery / Supply Locations :
Oman, Bahrain, Abu Dhabi, Ajman, Al Ain, Dubai, Ras Al-Khaimah, Ras al Khaimah, Fujairah, Sharjah, Umm Al Quwain, Fujairah, Ruwais, Mina (Port) Zayed, Khalifa Port, Kizad, Port Rashid, Jebel Ali Port, DP WORLD, Jebel Ali Free Zone, Khor Fakkan Container Terminal, Port Rashid, Jebel Ali Port, Mina Kalid Port, Khor Fhakan Port ( Khawr Fakkan, Khawr al-Fakkan ), Sharjah Creek, Ajman, Port of Hamriyah, Mina Zayed Port, Mussafah port, Khalifa Port, Umm al-Nar Port, Um Al Quwain Port, Saqr Port, Port of Fujairah, Dibba Port, Jebel Dhanna, Mina Al Hamriya, Mina Rashid, All United Arab Emirates