Excellent Cleaner for Electric Parts Having super Degreasing power with slow evaporation rate
A well balanced blend of non-chlorinated degresol ( Having super Degreasing power ) with surfactants which eliminates slow evaporation rate and resulting  for Cleaning and Degreasing  of electrical equipment.It provides immediate and efficient removal with a mideum evaporation rate.
Product Application:
High dissolving and penetration action.
Excellent degreasing and emulsification power .
Safe on applied electrical insulation.
Non-corrosive .It is safe to use on painted or varnished metal surfaces.
Without chlorinated solvents.
To be used as an alternative to conventional electric cleaners     
Classfication:-
| | | |
| --- | --- | --- |
| Description | Concentration | Product no. |
| ELECTROSOL - PLUS | 95 - 98 % | RXSOL-16-1077-020 |
| ELECTROSOL Q.D .(QUICK DRY) | 93 - 98% | RXSOL-16-1009-025 |
| ELECTROSOL – Non Flamable | 97 - 99 % | RXSOL-16-1076-025 |
Product Dose:
RXSOL-16-1077-020 must be used in open or  sufficiently ventilated areas. RXSOL-16-1077-020 should always be used concentrate (without mixing with other solvent.) For best results apply with either by brush, swab, or as  a fine spray using suitable hand held spray  equipment. Small components may be cleaned by brief immersion in a bath of RXSOL-16-1077-020.  Never use RXSOL-16-1077-020 on a running generator or motor. RXSOL-16-1077-020  can be used to clean virtually all electrical equipment  & components although  is it possible it may affect some types of rubber &  plastic .  Either  remove  rubber  &  plastic  parts  from  component  or test on small area for any reaction before cleaning. 
Product Note:
IMPA code ::: 551324,551325, 553324, 553324.
Product Technical Specification:
Appearance 

Clear  Colourless Liquid

Vapor Density : Heavier than air

Flash Point  

63°C (Closed Cup)

Stability:Very stable understandard, normal conditions

Compatibility 

 
 

Meta Plastic Rubber 

No known effect
No Known effect
May swell

Note : After use the product must always be well sealed in the drum.

Packaging

Order No

Size (in kgs./lts.)

 
RXSOL-16-1077-020

7/25   Lts
Remarks:
Keep container tightly closed and away from direct heat and sunlight. 
RXSOL brand electrical cleaner have various type based on uses and application of electrical parts cleaning action. And we are holding as Electrosol Plus electrical Cleaner manufacturer and exprter class. And our company have Electrosol Plus electrical Cleaner supply network in Navi Mumbai, Mumbai, Rabale, Surat, Gandhidham, Kandla, Ennore, Chennai, Visakhapatnam, Vizag, Kakinada, Manglore, Goa, Nashik, Pune, Kolkata, Haldia, Paradip. Fujairah, Sharjah, Dubai, Abudhabi, Uae, Middle East.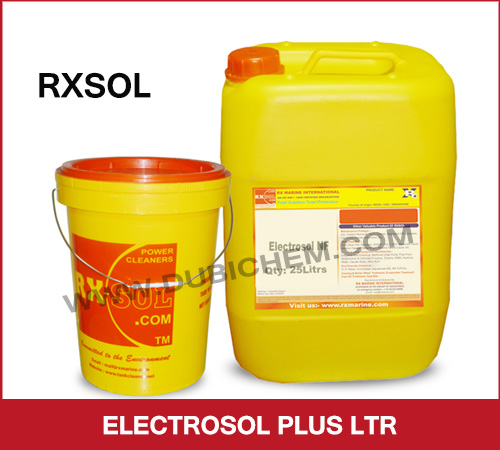 Free Delivery / Supply Locations :
Oman, Bahrain, Abu Dhabi, Ajman, Al Ain, Dubai, Ras Al-Khaimah, Ras al Khaimah, Fujairah, Sharjah, Umm Al Quwain, Fujairah, Ruwais, Mina (Port) Zayed, Khalifa Port, Kizad, Port Rashid, Jebel Ali Port, DP WORLD, Jebel Ali Free Zone, Khor Fakkan Container Terminal, Port Rashid, Jebel Ali Port, Mina Kalid Port, Khor Fhakan Port ( Khawr Fakkan, Khawr al-Fakkan ), Sharjah Creek, Ajman, Port of Hamriyah, Mina Zayed Port, Mussafah port, Khalifa Port, Umm al-Nar Port, Um Al Quwain Port, Saqr Port, Port of Fujairah, Dibba Port, Jebel Dhanna, Mina Al Hamriya, Mina Rashid, All United Arab Emirates