MinCream Rx is a smooth cream for multipurpose cleaning like, steel, Furniture, dirty hand  that removes tough grease and grime without harsh abrasives. It contains natural ingredient and is pleasantly scented.
Product Application:
It has multi use for cleaning of steel, hand, furniture, and other oily greasy surface.  Liquefies and goes to work quickly on the hands. Easily removes: grease, oil, ink, and adhesives. Suggested Applications: Oil, grease, tar, grime, soil, resins, printers' ink, epoxies, paint, rubber cement, gasket and tile cements.
Product Dose:
DIRECTIONS FOR USE :
Rub on dirty surface,  (do not use water) until dirt and grease are dissolved.
Wipe with dry cloth or rinse with water.
Product Note:
Future & Benefit
Removes grease, grime, oils, soil, gasket cement, epoxies, glues and inks.
Cleans without water.
Contains biodegradable surfactants.
Won't clog drains.
Contains glycerin and lanolin to keep hands smooth.
Pleasantly scented
Cream formulas may be self dispensed or used with problem-free, push type dispenser.
Leaves hands smooth, not sticky.
Withstands multiple freeze/thaw cycles.
Product Technical Specification:
PHYSICAL PROPERTIES
Appearance
 
White cream
Odor
 
Pleasant
Specific Gravity
 
1.15
Flash Point, COC (°F)
 
 >260
pH
 
 8.8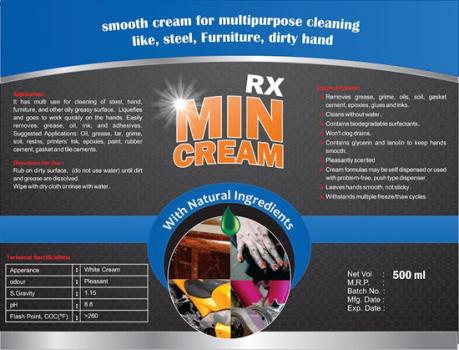 Free Delivery / Supply Locations :
Oman, Bahrain, Abu Dhabi, Ajman, Al Ain, Dubai, Ras Al-Khaimah, Ras al Khaimah, Fujairah, Sharjah, Umm Al Quwain, Fujairah, Ruwais, Mina (Port) Zayed, Khalifa Port, Kizad, Port Rashid, Jebel Ali Port, DP WORLD, Jebel Ali Free Zone, Khor Fakkan Container Terminal, Port Rashid, Jebel Ali Port, Mina Kalid Port, Khor Fhakan Port ( Khawr Fakkan, Khawr al-Fakkan ), Sharjah Creek, Ajman, Port of Hamriyah, Mina Zayed Port, Mussafah port, Khalifa Port, Umm al-Nar Port, Um Al Quwain Port, Saqr Port, Port of Fujairah, Dibba Port, Jebel Dhanna, Mina Al Hamriya, Mina Rashid, All United Arab Emirates