N-Propyl bromide (nPB) or 1-bromopropane supplier and exporter.
Product Application:
N-Propyl bromide (nPB)  is a popular dry cleaning solvent and also used in vapor degreasing, metal cleaning. NPB also popular as a solvent carrier in adhesives. NPB replaces trichloroethylene (TCE), methylene chloride, 1,1,1 trichloroethane and many more hazardous solvent.
Product Dose:
NPB used as an organic cleaning solvent for degreasing, precision cleaning, electronics and metal cleaning applications.
Product Technical Specification: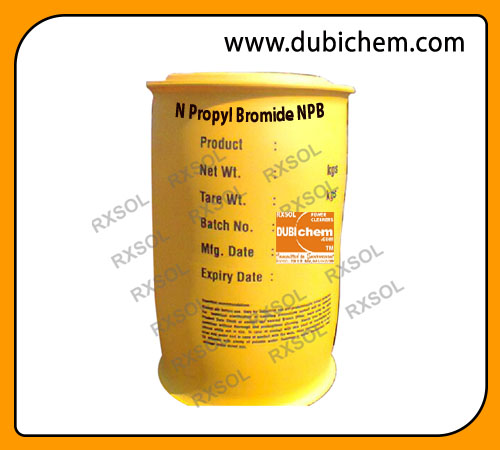 Free Delivery / Supply Locations :
Oman, Bahrain, Abu Dhabi, Ajman, Al Ain, Dubai, Ras Al-Khaimah, Ras al Khaimah, Fujairah, Sharjah, Umm Al Quwain, Fujairah, Ruwais, Mina (Port) Zayed, Khalifa Port, Kizad, Port Rashid, Jebel Ali Port, DP WORLD, Jebel Ali Free Zone, Khor Fakkan Container Terminal, Port Rashid, Jebel Ali Port, Mina Kalid Port, Khor Fhakan Port ( Khawr Fakkan, Khawr al-Fakkan ), Sharjah Creek, Ajman, Port of Hamriyah, Mina Zayed Port, Mussafah port, Khalifa Port, Umm al-Nar Port, Um Al Quwain Port, Saqr Port, Port of Fujairah, Dibba Port, Jebel Dhanna, Mina Al Hamriya, Mina Rashid, All United Arab Emirates