Citric acid passivation has become increasingly popular with manufacturers who want to avoid the use of mineral acids or solutions containing sodium dichromate, along with the disposal problems and greater safety concerns associated with their use. Citric acid is considered environmentally friendly in every respect. Although citric acid passivation offers attractive environmental advantages, soaps having success with mineral acid passivation and suffering no safety issues might want to stay the course. There may be no real need to change if those users have a clean soap, well-maintained and clean equipment, coolant tree of iron-containing soap dirt, and a process that yields good results. Passivation treatment in citric acid baths has been found useful for a large number of stainless steel families, including several individual stainless grades. The conventional nitric acid passivation methods  are included for convenience. Note that the older nitric acid formulations are in volume percent, while newer citric acid concentrations are in weight percent. It is important to note. in implementing these procedures, that a careful balance of immersion time, bath temperature and concentration is critical to avoid the "flash attack" described earlier, The passivation treatment varies depending on chrome content and machinability characteristics of the grades in each family.
Note the columns referring to Process 1 or Process 2. As shown in Figure 5, Process 1 involves fewer steps than Process 2
Product Application:
Procedure of Passivation
1. Isolate the exchanger and set up a circuit with an external tank with heating coil inside and a pump to circulate cleaning solution.
FLUSHING:-
2. Flush the Exchanger with fresh water to remove loose material (like dirt etc.) till such time clear water comes.
INHIBITED ACID CLEANING:-
3. Circulate inhibited Acid (5-6 % Citric Acid and 1% Rodine 213) along with non ionic wetting agent like RXSOL-T300  through Exchanger Loop for 6 to 8 hours
4. It total iron concentration reaches 5000 - 8000 PPM and concentration below 2% acid percentage then dump the cleaning solution and repeat the cycle with fresh inhibited acid.
5. Samples to be tested for pH, TDS and iron on hourly basis.
6. Normal operating temperature should be 50-60º C.
7. When iron concentration and acid concentration of solution reaches steady state and cleaning in completed. Drain the cleaning solution.
NEUTRALIZING:-
8. Circulate 1-2% solution of soda Ash for one to two for neutralization.
9. Rinse the neutralizing solution with water till pH of Inlet and Outlet is same.
PASSIVATION:-
10. Immediately fill and Circulate with 1-3% of solution of sodium Hexametaphosphate for 4-6 hours keeping operating temperature around 50-60º C. Analyze for Phosphate levels in Inlet and Outlet. (Normally maintain 30-40 PPM O-PO4 level)
11. Drain the passive solution without flushing with water.
DRYING:-
12. Dry the circuit with dry air/N2. 
Product Technical Specification:
Physical Properties:
Specific Gravity

Approx. wt. /gallon

Viscosity

Form

Chemical Composition

Operating Temperature

Flash Point

Water solubility

Normal working concentration

pH at working concentration
>1

9.5 lb/gal

3 cps

Liquid

Proprietary ingredients with CITRIC

Room temp or higher (120-160°F preferred)

None

Complete

20-33% by volume in water

1-2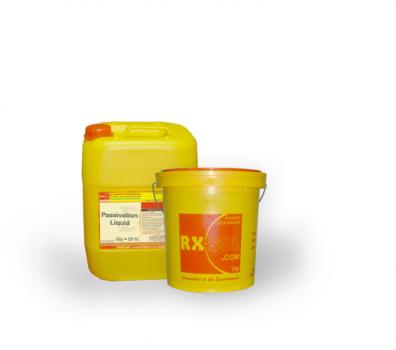 Free Delivery / Supply Locations :
Oman, Bahrain, Abu Dhabi, Ajman, Al Ain, Dubai, Ras Al-Khaimah, Ras al Khaimah, Fujairah, Sharjah, Umm Al Quwain, Fujairah, Ruwais, Mina (Port) Zayed, Khalifa Port, Kizad, Port Rashid, Jebel Ali Port, DP WORLD, Jebel Ali Free Zone, Khor Fakkan Container Terminal, Port Rashid, Jebel Ali Port, Mina Kalid Port, Khor Fhakan Port ( Khawr Fakkan, Khawr al-Fakkan ), Sharjah Creek, Ajman, Port of Hamriyah, Mina Zayed Port, Mussafah port, Khalifa Port, Umm al-Nar Port, Um Al Quwain Port, Saqr Port, Port of Fujairah, Dibba Port, Jebel Dhanna, Mina Al Hamriya, Mina Rashid, All United Arab Emirates