Available Packing Sizes:
25kg HDPE Bags with inner PE liner/Jumbo bags
Product Application:
As a laundry sour for iron stains

Etching and frosting of glass

Pre treatment of metal surfaces for electroplating
Product Note:
Sodium Bifluoride is a highly toxic, corrosive chemicals, poisonous. Avoid contact with eyes, skin and clothing. Keep the product in air tight bags. In case of contact with eyes and skin, wash the affected place with running water.
Product Technical Specification:
Name: Sodium bifluoride

Synonyms: Sodium hydrogen fluoride

CAS No.: 7789-29-9

Molecular Formula: NaHF2

Molecular weight: 62.01
Specification: 98% min.

Appearance : AppearanceWhite powder/granular

Boiling Point : Decomposes at >400 °C

Melting Point : 160 °C

Specific Gravity : 1.033 g/cc3
Solubility3.8/100 ml of H2O @ 25oC
Remarks:
Product Test Specification : 
| | | |
| --- | --- | --- |
| Parameters |  Unit | Specification |
| Loss on dry | % Max | 0.02 |
| Purity as 'KHF₂' | % Min | 99.51 |
| Fluorine as 'f ' | % Min | 48.71 |
| White Degree | % Min | 95 |
| Sulphate as 'SO₄' | % Max | 0.003 |
| Chlorides as 'Cl' | % Max | 0.003 |
| Potassium Fluorosilicate | % Max | 0.0045 |
| Heavy Metals as 'Pb' | % Max | Nil |
| Iron as 'Fe' | % Max | 0.001 |
| Sodium as ' Na' | % Max | 0.001% |
| Free HF | % Min | 31.6% min |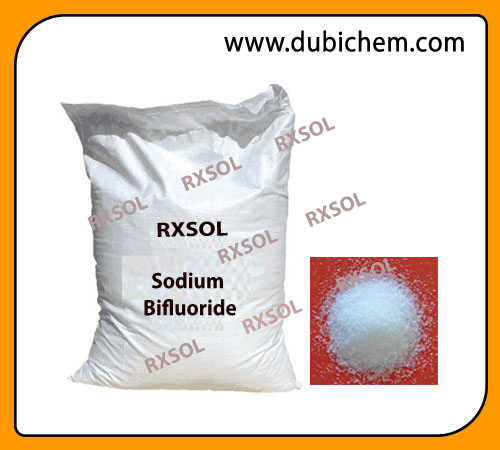 Free Delivery / Supply Locations :
Oman, Bahrain, Abu Dhabi, Ajman, Al Ain, Dubai, Ras Al-Khaimah, Ras al Khaimah, Fujairah, Sharjah, Umm Al Quwain, Fujairah, Ruwais, Mina (Port) Zayed, Khalifa Port, Kizad, Port Rashid, Jebel Ali Port, DP WORLD, Jebel Ali Free Zone, Khor Fakkan Container Terminal, Port Rashid, Jebel Ali Port, Mina Kalid Port, Khor Fhakan Port ( Khawr Fakkan, Khawr al-Fakkan ), Sharjah Creek, Ajman, Port of Hamriyah, Mina Zayed Port, Mussafah port, Khalifa Port, Umm al-Nar Port, Um Al Quwain Port, Saqr Port, Port of Fujairah, Dibba Port, Jebel Dhanna, Mina Al Hamriya, Mina Rashid, All United Arab Emirates