Sodium Metabisulfite Manufacturer, Supplier and Exporter. 
Product Application:
Sodium metabisulphite used as a disinfectant, antioxidant, and preservative agent. Used as a cleaning agent for potable water reverse osmosis membranes in desalination systems. It is also used to remove chloramine from drinking water after treatment. Sodium metabisulphite has found use as a reducing agent in the manufacture of biscuits, especially the low-fat, low-sugar.
Product Dose:
CAS Number: 7681-57-4; EC Number: 231-673-0
Product Technical Specification:
Analysis item Analysis Result
Main content(Na2S2O5) 97.8%
Fe %( Fe) 0.003%
Water-Insoluble 0.02%
Arsenic(As) content <0.0001
Remarks:
SODIUM METABISULFITE is a white crystalline or powder solid with a slight sulfur odor. Toxic by inhalation . Strongly irritates skin and tissue. Noncombustible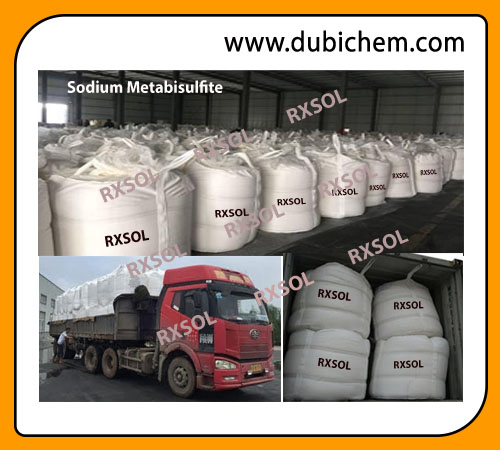 Sodium Meta Bisulphite manufacturer in India, UAE, Canada, Best quality Sodium Meta Bisulphite SMBS ready stock in Mumbai, Kandla, Howrah, Vishakhapatnam, Chennai, Fujairah, Muscat Barka Oman, Kenya.
Sodium Metabisulfite supplier in Turbha, Mahape, Pawane - MIDC Navi Mumbai, Kandla - Gandhidham - GIDC, Chennai - Ennore, Visakhapatnam, Kolkata, Fujairah, Dubai, Sharjah, Abudhabi, Ajman.
Free Delivery / Supply Locations :
Oman, Bahrain, Abu Dhabi, Ajman, Al Ain, Dubai, Ras Al-Khaimah, Ras al Khaimah, Fujairah, Sharjah, Umm Al Quwain, Fujairah, Ruwais, Mina (Port) Zayed, Khalifa Port, Kizad, Port Rashid, Jebel Ali Port, DP WORLD, Jebel Ali Free Zone, Khor Fakkan Container Terminal, Port Rashid, Jebel Ali Port, Mina Kalid Port, Khor Fhakan Port ( Khawr Fakkan, Khawr al-Fakkan ), Sharjah Creek, Ajman, Port of Hamriyah, Mina Zayed Port, Mussafah port, Khalifa Port, Umm al-Nar Port, Um Al Quwain Port, Saqr Port, Port of Fujairah, Dibba Port, Jebel Dhanna, Mina Al Hamriya, Mina Rashid, All United Arab Emirates