Available Packing Sizes:
100 ml, 200 ml, 500 ml, 1 Ltr Bottle packing. Available in Mumbai, Kandla, Chennai, Visakhapatnam, Kolkata, Fujairah, Dubai, Sharjah, Abudhabi. Sodium Perchlorate solution offered is made available by us under CAS NO of 7601-89-0, molecular formula of ClNaO4, molecular weight of 122.44.
NaClO4 has a variety of uses in the laboratory. Sodium Perchlorate Solution Chemical Manufacturer of Specialty Bulk Perchlorate Compounds for Process Chemistry. We are manufacturer, supplier and exporter of  Sodium Perchlorate solution.
Product Technical Specification:
TEST
1. Assay (as NaClO4) 58.0-63.5%
2. pH of 5% solution 6.0-8.0
3. Specific Gravity 1.56 - 1.63
4. Chloride 500 ppm

Specification Colour : Colorless 
Sodium Per-chlorate : 62% Plus (or) Minus 1% 
Chloride as NaCl : 5 G/L Max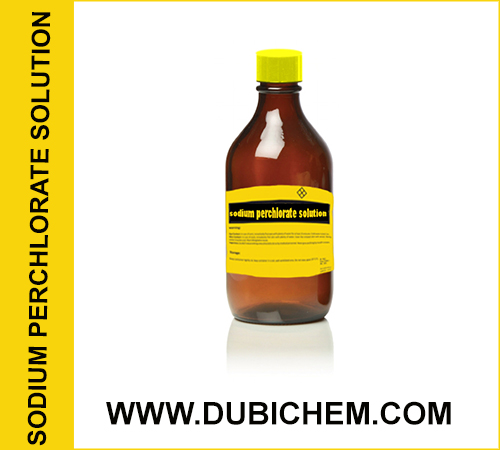 We are the distinguished manufacturer and exporter of a wide range of Laboratory Chemicals & Reagents like Ammonium Ferrous Sulphate AR/LR, Ferrous Sulphate AR/LR, Sodium Perchlorate AR, Acetamide LR, Hydroxylamine Hydrochloride LR, Sodium Thioglycolate LR, Blue Tetrazolium Chloride AR, Manganese Dioxide Pure 85%, Sodium Nitroprusside LR/AR,
Also share your inquiry for these products...
PHOSPHOTUNGSTIC ACID EXPORT GRADE 
SILICOTUNGSTIC ACID 
PHOSPHOMOLYBDIC ACID 
TELLURIUM DI-OXIDE
SODIUM ARSENATE 
SODIUM ARSENITE 
SODIUM PERCHLORATE 
MAGNESIUM PERCHLORATE 
LITHIUM PERCHLORATE 
AMMONIUM PERCHLORATE
POTASSIUM PYROSULPHATE
we are manufacturer and supplier of these products in Mumbai, Kolkata, Chennai, Visakhapatnam, Gandhidham,  Fujairah, Dubai, Sharjah.
Free Delivery / Supply Locations :
Oman, Bahrain, Abu Dhabi, Ajman, Al Ain, Dubai, Ras Al-Khaimah, Ras al Khaimah, Fujairah, Sharjah, Umm Al Quwain, Fujairah, Ruwais, Mina (Port) Zayed, Khalifa Port, Kizad, Port Rashid, Jebel Ali Port, DP WORLD, Jebel Ali Free Zone, Khor Fakkan Container Terminal, Port Rashid, Jebel Ali Port, Mina Kalid Port, Khor Fhakan Port ( Khawr Fakkan, Khawr al-Fakkan ), Sharjah Creek, Ajman, Port of Hamriyah, Mina Zayed Port, Mussafah port, Khalifa Port, Umm al-Nar Port, Um Al Quwain Port, Saqr Port, Port of Fujairah, Dibba Port, Jebel Dhanna, Mina Al Hamriya, Mina Rashid, All United Arab Emirates