Available Packing Sizes:
20 Kgs, Also available in small packing of 250 Grams, 500, 1 Kg Pck.
Teak Renewer RX is a dry product  specially formulated for brightening wooden decks. For removal of oil and fat and for daily cleaning use RXSOL Aquabreak RX or Inviro Cleaner.
Product Application:
Wooden Deck Cleaning and Brightening. Teak Renewer RX `is used to remove wood discolouration commonly found on untreated teak, mahogany or oak decking.
Clean and bright exterior wood by removal of dirt and gray.
Product Dose:
Dissolve 5 to 10%  Teak Renewer RX in fresh water. Apply the solution on the surface with a chemical spray unit or manually. Then Leave for 30 to 45 minutes. Finally Wash off with fresh clean water.
Product Note:
Features & Benefits :
 Dry acid deck cleaner
 Surface brightening of wood
 Removes stains and discolouration
 Water soluble for ease of use
 Quick, efficient cleaning power
Disposal : This composition meets the criteria for not being harmful to the marine environment according to MARPOL Annex V and may be discharged into the sea when used to clean cargo holds and external surfaces on ships.
Product Technical Specification:
MSDS and Technical specification available online
| | |
| --- | --- |
| Form | Crystalline powder |
| Appearance | White |
| Density | 1.6 |
| pH, in 10% sol. | 1 |
| Not Compatible | Long term exposure will cause corrosion. |
Remarks:
Deck Renewer is very effecting and proved proucts from many years. Its formulation doesn't contains harashing chemicals.  Also clicke here to get most valuable related product of your industries --- http://www.rxmarine.com/Products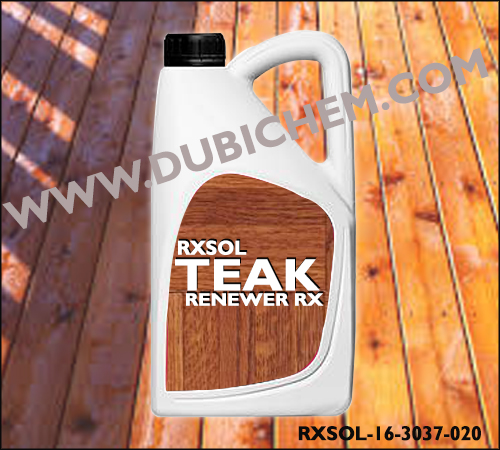 Wood Brightner, Teak renewer chemical formula, 
Free Delivery / Supply Locations :
Oman, Bahrain, Abu Dhabi, Ajman, Al Ain, Dubai, Ras Al-Khaimah, Ras al Khaimah, Fujairah, Sharjah, Umm Al Quwain, Fujairah, Ruwais, Mina (Port) Zayed, Khalifa Port, Kizad, Port Rashid, Jebel Ali Port, DP WORLD, Jebel Ali Free Zone, Khor Fakkan Container Terminal, Port Rashid, Jebel Ali Port, Mina Kalid Port, Khor Fhakan Port ( Khawr Fakkan, Khawr al-Fakkan ), Sharjah Creek, Ajman, Port of Hamriyah, Mina Zayed Port, Mussafah port, Khalifa Port, Umm al-Nar Port, Um Al Quwain Port, Saqr Port, Port of Fujairah, Dibba Port, Jebel Dhanna, Mina Al Hamriya, Mina Rashid, All United Arab Emirates