Highly concentrated cleaner, When normal cleaning procedures are not enough to restores ceramic tile and grout. This product renews your tile and grout Restoration Tile.  This industrial strength acid cleaner will remove embedded mineral deposits and carbonaceous soils such as rust, calcium, urine stains, soap scum and efflorescence from man-made tile and cement grout. Can be used to etch hard-to-clean grout by removing a super fine layer, leaving your grout sparkling bright and clean. 
Blended with latest emulsifier technology formulation with corrosion inhibitors. 
 
Product Application:
Safe and biogradable; produces no hazardous vapors
Can be used as an etching material for masonry and marble
Removes Embedded Mineral Deposits and Carbonaceous Soils
Low Foaming, Low VOC Formula
Commercial and Residential Use
Product Dose:
Coverage: One Ltrs diluted solution will covers 120 sf per area.
Dilution:  50 ml  - 250 ml can be dilutedwith water to make 1 Ltr solution.
The product is easy to mix (1 part water/1 part cleaner), and can be applied it to the grout with a small scrub brush. Applying it to one area at a time, then clean with wet sponge, later followed by a quick mopping.  Tiles & grout will give full strength of shine and cleaning effect.
Additionals USES :::
Also can be use for cleaning of  fiberglass shower, This product Effectively cleans grease, hard water/lime/stains Highly recommend to clean up fiberglass showers!
Product Technical Specification: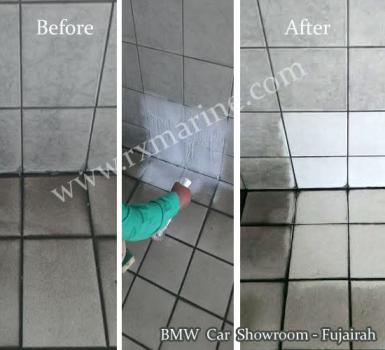 Free Delivery / Supply Locations :
Oman, Bahrain, Abu Dhabi, Ajman, Al Ain, Dubai, Ras Al-Khaimah, Ras al Khaimah, Fujairah, Sharjah, Umm Al Quwain, Fujairah, Ruwais, Mina (Port) Zayed, Khalifa Port, Kizad, Port Rashid, Jebel Ali Port, DP WORLD, Jebel Ali Free Zone, Khor Fakkan Container Terminal, Port Rashid, Jebel Ali Port, Mina Kalid Port, Khor Fhakan Port ( Khawr Fakkan, Khawr al-Fakkan ), Sharjah Creek, Ajman, Port of Hamriyah, Mina Zayed Port, Mussafah port, Khalifa Port, Umm al-Nar Port, Um Al Quwain Port, Saqr Port, Port of Fujairah, Dibba Port, Jebel Dhanna, Mina Al Hamriya, Mina Rashid, All United Arab Emirates