Effectively removes grease, dirt and traffic film with the minimum amount of agitaion. Excellent product for use in hot and cold presure washing equipment for vechicle cleaning. 
This is an aqueous blend of surfactants, Designed for use in the cleaning of vechicles by hot or cold water pressure treatment. 
Product Dose:
It can be diluted up to 2 - 5% for economy.
Traffic Film Remover
Powerful road film dirt remover
Cleaning and degreasing action
Fast acting and 100% safe
Excellent fly and bug eradication
Solvent free alkaline formula
Safe to use on rubber and plastics
Fully Biodegradable – waterbased
Product Technical Specification:
Traffic Film Remover is fast and effective cleaning solution for a range of heavy duty vehicles. Traffic film Remover from Power Maxed is suitable for use on all types of vehicles from cars, caravans and even construction vehicles. Traffic Film Remover is a highly concentrated formula created for use with vehicles to remove large amounts of dirt and chemicals from a vehicles exterior. These chemicals can come from a range of places including the road itself and the vehicles that you may pass during your journeys
Ideal for Car, 4x4, Plant & Truck
Cleans & Degreases
Fast Action
Excellent Bug Remover
Powerful Formula for the Toughest of Dirt
Suitable for all Vehicles
Safe to use on Rubber, Plastic, Alloy, Wiring and Glass
Will not strip wax or sealant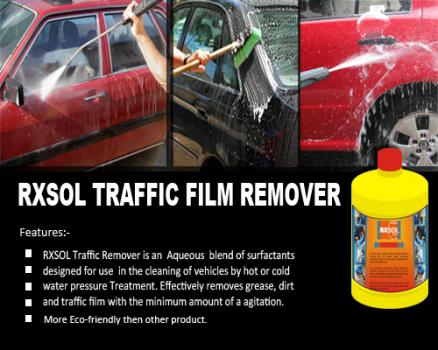 Free Delivery / Supply Locations :
Oman, Bahrain, Abu Dhabi, Ajman, Al Ain, Dubai, Ras Al-Khaimah, Ras al Khaimah, Fujairah, Sharjah, Umm Al Quwain, Fujairah, Ruwais, Mina (Port) Zayed, Khalifa Port, Kizad, Port Rashid, Jebel Ali Port, DP WORLD, Jebel Ali Free Zone, Khor Fakkan Container Terminal, Port Rashid, Jebel Ali Port, Mina Kalid Port, Khor Fhakan Port ( Khawr Fakkan, Khawr al-Fakkan ), Sharjah Creek, Ajman, Port of Hamriyah, Mina Zayed Port, Mussafah port, Khalifa Port, Umm al-Nar Port, Um Al Quwain Port, Saqr Port, Port of Fujairah, Dibba Port, Jebel Dhanna, Mina Al Hamriya, Mina Rashid, All United Arab Emirates