RXSOL TLC ( Traffic Lane Cleaner ) designed and advance formulation to  to tuff clean and makes heavy soil loosening property. It can also be combine with detergents to help loosen soils that resist detergents alone. Its Buffer pH action Even in diluted form the pH remains a powerful 11.0 to 12.0 for quick soil loosening. 
 
Product Dose:
Directions: 
As a pre-spray: Dilute by putting 250 to 300 ml. of RXSOL TLC in a 5 Ltr of water.  Apply through sprayer. In order to increase cleaning efficiency, brush lightly with a hand pile brush. 
As a cleaning solution booster: Add 100 ml. of RXSOL TLC to each 5 Ltrs detergent solution. 
To use as an all purpose spotter: Dilute 500 ml. of RXSOL TLC  of concentrate with 1 Ltr of water and apply before corrective cleaning. 
Helpful Hint — For use on quick soil removal, pre-spray using a stronger concentration. Spray entire surface, then brush to enhance cleanig fast action.
Product Technical Specification: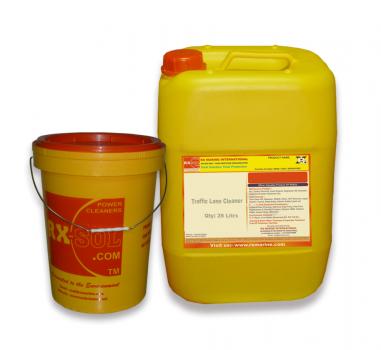 Free Delivery / Supply Locations :
Oman, Bahrain, Abu Dhabi, Ajman, Al Ain, Dubai, Ras Al-Khaimah, Ras al Khaimah, Fujairah, Sharjah, Umm Al Quwain, Fujairah, Ruwais, Mina (Port) Zayed, Khalifa Port, Kizad, Port Rashid, Jebel Ali Port, DP WORLD, Jebel Ali Free Zone, Khor Fakkan Container Terminal, Port Rashid, Jebel Ali Port, Mina Kalid Port, Khor Fhakan Port ( Khawr Fakkan, Khawr al-Fakkan ), Sharjah Creek, Ajman, Port of Hamriyah, Mina Zayed Port, Mussafah port, Khalifa Port, Umm al-Nar Port, Um Al Quwain Port, Saqr Port, Port of Fujairah, Dibba Port, Jebel Dhanna, Mina Al Hamriya, Mina Rashid, All United Arab Emirates