Available Packing Sizes:
20 ltr, 25, 50 Ltr, 210 ltr. International standard packing available with us. We are one of popular carbon Remover supplier providing ship chandelling services on ship. Are you getting carbon remover chemicals cheaper then us... try at least once? No one can provide better price, As we are producing carbon remover on a largest scale, which is enable us to provide you on concentrated carbon cleaner on best price.
Extremely high solvency and penetrating capabilities to remove carbonaceous residue formed by fuel and other petroleuium based product. RXSOL-16-1003-020 is a highly concentrated Wetting Emulsifying Agent.Specifically formulated for removal of completely carbon, grease, oil, varnishes and other heavy deposits from diesel engine
This powerful action is based on a two – Layer mechanism. The top-layer prevents the evaporation of the volatile components in the button-layer. The button –layer removes the deposited substances. This way, the deposits are bind and trapped resulting to complete and safe removal.
Product Application:
For removal of carbon deposits it must be used concentrated ,contained in a steel immersion bath.
SAFETY AND HANDLING:- Completely  Avoid contact with eyes as irritation may occur. Do not take internally. In case of contact with eyes, flush eyes immediately and cupiously with clean running  water for 15- minutes and seek medical attention.
 
Product Dose:
Depending upon the deposition either concentrated or diluted .If used diluted use 1 part concentrate to 2-10 parts of water to yield a very effective end product. The components and machine parts are then dipped into the solvent / solution for 30 min. to 1 hr. Heavy deposition may need 12-24 hours , parts must be taken out from the bath and washed thoroughly with a high- pressure water supply jet system.
concentrated RXSOL-16-1003-020 is most effective product in its category due to its quick and complete action.  can be applied for cleaning of highly soiled components. blocks, gear boxes, pistons, rings, valves, atomizers, pipes, burners, coolers, cylinder heads, injectors, tubes, oil filters , old paint and lacquers ) 
Product Note:
Non- evaporation prevents loss of chemical.
CHARACTERISTICS :-
Unique chemical formulation with corroision inhibitor
Non- toxic
Extends time between cleans.
Effective removal of STICKER/CARBON DEPOSITS , completely heavy carbon, grease oil, varnish and other deposits as well as old paints, resins and lacquer coatings
Can be applied by all normal methods.
Formulated to be very cost effective.
Does not contain chlorinated hydrocarbons.
Can be used on all metals & most painted surfaces.
100% Active.
Dries Completely.
Does not require special feeding equipment for safe application.
Reduce downtime and maintenance costs.
Product Technical Specification:
Highly concentrate carbon cleaning product manufacturer and supplier for Marine Shippinga and heavy Industries. We are one of popular supplier of Carbon Remover in Visakhapatnam - vizag, Gnagavaram, Chennai, Mumbai, GOA, Manglore, Goa, Kandla, Mundra, Sikka, Kolkata, Haldia, Pirpav, Dubai, Sharjah, Fujairah.
Remarks:
During maintenance Engine decarbonisation is one of important steps. Our Carbon remover fluid products not only saving engine decarbonising cost but also helps to clean all types of sludge deposits. 



RXSOL carbon remover is best Solution for Internal Engine Cleaning and Maintenance also helps to clean  clog oil passages, and the chemical will also effectively clean piston rings, filter, Disc etc.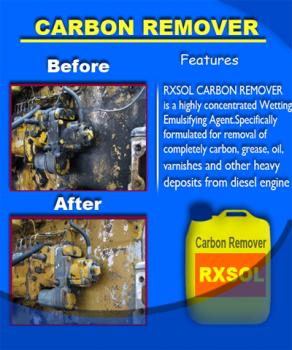 Ship maintenance chemicals Carbon Remover cleaner supplier ship chandler in Mumbai - JNPT - pirpav, Kandla - Gandhidham, Chennai - Ennore, Visakhapatnam, Kolkata, Haldia, Paradip,  Manglore, Goa, Fujairah, Dubai, Sharjah, Abu Dhabi.
CARBON cleaner is very active which eliminates the need for Scrubbing or Brushing  which can cause mechanical damages to discs and result in poor performance.
Our Other Valuable grade of CARBON REMOVER :::
A)Decarbonizer Predator Carbon Cleaner Part No. - RXSOL-16-1699-025 ::: Fast Effective Liquid degreaser and decarbonizer, Its immediate action of solvent makes it very popular and easy to use. Plesant Smell based and its specialization is water-rinseable gives complete cleaning effect. ( This product is WATER INSOLUBLE )  
B) Carbon Remover LT Part No.- RXSOL-16-1075-025 ::: is a non-corrosive, powerful solvent for removal of carbonaceous deposits. Carbon Remover LT contains no chlorinated solvents or phenolic compounds and has low toxicity to the environment and to persons handling it.  ::: ( This product is WATER INSOLUBLE )
Engine Room Maintenance Chemicals covers full maintenance chemicals for SHIP engine and deck cleaning. We also covers Decontamination Cleaners, Petrol Chemical, Tank Cleaning, Institutional Degreasers,  Pressure Wash cleaner, Metalbrite, Electrical cleaner,  Pipe and Tank cleaning detergent chemicals, Sludge removers cleaner etc ...
Free Delivery / Supply Locations :
Oman, Bahrain, Abu Dhabi, Ajman, Al Ain, Dubai, Ras Al-Khaimah, Ras al Khaimah, Fujairah, Sharjah, Umm Al Quwain, Fujairah, Ruwais, Mina (Port) Zayed, Khalifa Port, Kizad, Port Rashid, Jebel Ali Port, DP WORLD, Jebel Ali Free Zone, Khor Fakkan Container Terminal, Port Rashid, Jebel Ali Port, Mina Kalid Port, Khor Fhakan Port ( Khawr Fakkan, Khawr al-Fakkan ), Sharjah Creek, Ajman, Port of Hamriyah, Mina Zayed Port, Mussafah port, Khalifa Port, Umm al-Nar Port, Um Al Quwain Port, Saqr Port, Port of Fujairah, Dibba Port, Jebel Dhanna, Mina Al Hamriya, Mina Rashid, All United Arab Emirates