COIL BRITE  RX Yellow for TOUGH CLEANING PROBLEM
Concentrated Aluminum Coil Cleaner
COIL BRITE RX is a concentrated blend of Specifically designed to clean aluminum heat transfer coils of dirt, oil, and scale. COIL BRITE RX is also effective in cleaning stainless steel and fiberglass.
Product Dose:
Dilute COIL BRITE RX as provided to tough cleaning problems, or dilute in ratios of 1 : 5 to 1 : 15 in water depending on surfaces to be cleaned COIL BRITE RX can be applied with a brush or sprayer on wet surfaces. Apply from the bottom and work up allowing two to five minutes for penetration of the deposits. Rinse well with water while brushing in order to get a brighter surface. For fiberglass, use 1 : 5 ratio with water, spray or brush onto surface, brush off deposits and rinse.
Product Note:
Availability
COIL BRITE RX is available in UN approved 5 gallon pails, 55 gallon drums and bulk quantities.
Handling
Observe warning label on containers. Normal precautions for industrial chemicals apply.
Product Technical Specification:
| | |
| --- | --- |
| Color | Yellow |
| Odor  | Normal |
| Water Solubility | 100% |
| Density      | 1.01 |
| Freeze Point   | 28B F |
Remarks:
Coil Bright is chemically Alu minium Bright chemicals.
Information:
RXSOL brand is pioneer to manufacture Complete AC Coil Cleaning solution which helps AC Coil Cleaning and Deep Duct Disinfection and removal of AC Bad Smell which is main causes of Allergies / Asthma. Our DUBI CHEM MARINE International is classified as United Arab Emirates Coil Cleaner manufacturer as well as Coil Cleaner from United Arab Emirates Supplier. We have various range of coil cleaner, which is usefull for AC maintenance service.
Air-Cooler Cleaner
Multi Row - coil Cleaner
Non Acidic Coil Cleaner
Air Conditioning Coil Cleaner
Non Acidic Coil Cleaner
A/C Condensate coil cleaner
Heavy Duty Sewer Solvent cleaner
Air-Conditioners Coil Cleaners
MULTI-BRIGHT
Air-Conditioners Coil Cleaners
Liquid Instant Drain Opener
Acid Based Condenser Cleaner
Carbon Remover
Coil Cleaners - Coil Cleaner Suppliers & Manufacturers inDUBAI, Sharjah, Abu Dhabi - UAE. COIL CLEANER is liquid cleaner and brightener for complete removal of dust, dirt, greasy-oily soils, carbon deposits and grime on the aluminum fins and copper coils of AHU, FCU etc...
Very useful products for Coil Cleaning | Condenser Coil Cleaning | Evaporator Coil Cleaning products
RXSOL brand is most trusted cleaning chemical supplier in the United Arab Emirates. 
Removes soil and buildup on condenser coils and evaporator coils
Works on heat pumps and air conditioners
Improves systems performance
No fume formula
Cleans coils on ice machines
RXSOL Coil Cleaner gives foaming action which will help loosen the dirty buildup on your condenser coils. A dirty condenser can  increase AC or heat pump usage substantially. Use RXSOL Coil Cleaner on outside coils monthly during the cooling season to help your system operate more efficiently. Easily cleans and removes soils and buildup. Biodegradable.
Unit price of Coil Cleaner for EX factory Fujairah, can get through this link http://www.dubichem.com/Coil-Cleaner-Price
Supplier:
Coil Cleaner supplier in Kuwait, Oman, Bahrain, UAE. 
Distributor:
Dubi Chem Marine International keeping ready stock of materials at our Fujairah Plant. And supplying through out UAE - MIDDLE East to our customer.  We are having popular international brand RXSOL , which covers maximum no of Industrials Maintenance Chemicals supply in Dubai.
Manufacturer:
Coil Cleaner - Brightening chemicals of Coil is manufactured in our Fujairah Manufacturing Unit, Under RXSOL brand name. Which is most trusted name in Asia.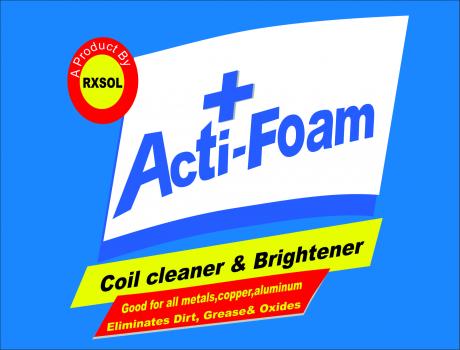 Free Delivery / Supply Locations :
Oman, Bahrain, Abu Dhabi, Ajman, Al Ain, Dubai, Ras Al-Khaimah, Ras al Khaimah, Fujairah, Sharjah, Umm Al Quwain, Fujairah, Ruwais, Mina (Port) Zayed, Khalifa Port, Kizad, Port Rashid, Jebel Ali Port, DP WORLD, Jebel Ali Free Zone, Khor Fakkan Container Terminal, Port Rashid, Jebel Ali Port, Mina Kalid Port, Khor Fhakan Port ( Khawr Fakkan, Khawr al-Fakkan ), Sharjah Creek, Ajman, Port of Hamriyah, Mina Zayed Port, Mussafah port, Khalifa Port, Umm al-Nar Port, Um Al Quwain Port, Saqr Port, Port of Fujairah, Dibba Port, Jebel Dhanna, Mina Al Hamriya, Mina Rashid, All United Arab Emirates