Available Packing Sizes:
500 Gram, 1 Kg, 5 Kg, 20, 25, 50 Kg JAR. Mail us for factory sale and Discounted price. Stock is available at Kandla, Visakhapatnam, Chennai - Ennore, Mumbai, JNPT, Surat, Kolkata, Haldia, Paradip, Fujairah, Dubai.
Descalex  powder scale remover and cleaner formulated to remove rust and scale deposits from boilers, diesel engine cooling water systems, condensers, evaporators, calorifiers and heat exchangers.
RXSOL Descalex contains corrosion inhibitor which provides corrosion protection.
This product is compatible and suitable with aluminium, copper, zinc, galvanized metals, steel boilers etc. Powder Acid for Removal of Scale and Rust
Product Application:
Powder scale remover designed for use in the chemical cleaning of evaporators, boilers, cooling towers, heat exchangers, tanks and pipes, which are commonly fouled by hard water scales, grease, tarts and other impurities.
RXSOL DESCALEX contains corrosion inhibitor which provides corrosion protection even after the cleaning, unlike other acid cleaning chemicals which may increase corrosion rate after cleaning. Moreover, it contains pH indicator which facilitate monitoring of cleaning progress.
Product Dose:
Directions for Use and Dose Rates
The most effective descaling is accomplished by circulation. In the case of small components, the soak method in an immersion bath can be used. If the equipment to be cleaned is contaminated by oil, grease and sludge, then pre-cleaning with Seaclean Plus or Enviroclean. Depending on the extent of scaling, use a solution of 2.5-10% Descalex. The solution will have a red colour which disappear when the solution is neutralised. Whenever possible, the solution should be heated to 60°C. Neutralised solutions can be reactivated by adding more Descalex until the red colour reappears. This should not be done more than twice. Descalex should not be used on aluminium, zinc, tin or galvanised surfaces. Descaling of Boilers, Descaling of Diesel Engine Cooling Water Systems, Condensers,
Evaporators, Calorifiers, Heat Exchangers:
The strength of the acid can be enhanced by adding 1 part sodium chloride (common salt) to 20 parts of Descalex. This enhancement of the cleaning solution, however, should not be used when descaling diesel engine cooling water systems. After use of Descalex a 0.5% solution of Alkalinity Control in fresh water should be used for neutralisation.
Product Note:
Descalex powder blended with corrosion inhibitor along with scale removing acidic powder for cleaning of rust and water scale deposits from water system. Presence of Inhibitor resulting to stop direct acidic effect on metal surface.
Product Technical Specification:
| | |
| --- | --- |
| Appearance | Yellowish powder |
| Density | in g/cm3 at 15°C: 1.2 |
| Flash Point | (PMCC) in °C: N/A   |
| pH | in 10 wt-%: 1.1 |
| Compatibility |   |
| Metal | Avoid aluminium, zinc, tin and their  alloys and galvanised surfaces.  |
| Rubber | No known effect.  |
Remarks:
RXSOL DESCALEX is chemical compound and should be handle with all chemicals handling precaution like use chemical protective goggle, Hand gloves etc... For more details pl. refer RXSOL product MSDS.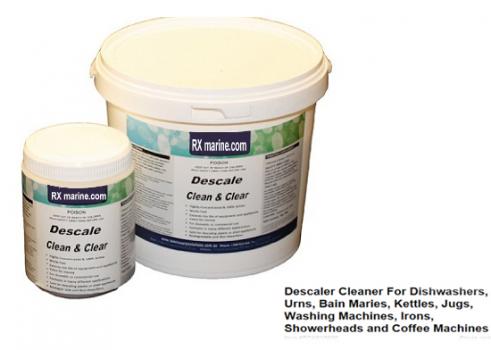 Dry acid descaling cleaner suitable for Boilers, Diesel Engine Cooling Water Systems, Condensers, Evaporators, Calorifiers, Heat Exchangers etc.
Features, Benefits and Applications
• Dry acid cleaner contains inhibitors to protect metals.
• Contains colour indicator to show the strength of the solution and anti-foam agent.
• Safe and easy handling and storage.
• Fast and effective scale remover.
• Removes scale from boilers.
• Removes scale from diesel engine cooling water systems.
• Removes scale and rust from condensers, evaporators, heat exchangers etc.
                                    
                                   **Read the Material Safety Data Sheet before using this product**
Depending on the nature of the scale and mass volume of contamination,  use descalex powder with fresh water with a concentration value of 2 - 20 %.  It means for light descaling 2 Kg Descalex powder can be dissolved in 100 Ltrs of water and if hard and thick deposition observed powder ratio can be increased up to 15 - 20 Kg in running cleaning solution.
Descalex Powder manufacturer and supplier in Muscat - Barka, Oman, Fujairah, Abudhabi, Ajman, Sharjah, Dubai, Diera, UAE Middle East, Mumbai, Kandla Gandhidham, GIDC SURAT, Navi mumbai MIDC, Taloja, Panvel, Nerul, Koparkhairna, Turbha Mahape, Rabale, Airoli, Kolkata, Howrah, West Bengal, Bihar Patna, Dehri On Sone, Jharkhand, Ranchi, Tata, Dhanbad, Varanshi, Uttar Pradesh UP, Visakhapatnam, Andhrapradesh, Manglore, Goa
RXSOL DESCALEX improves heat transfer efficiency in heat exchangers and improve flow in pipes.

RXSOL DESCALEX effectively dissolves calcium and magnesium scale, hard water scale and variety of deposits.
Free Delivery / Supply Locations :
Oman, Bahrain, Abu Dhabi, Ajman, Al Ain, Dubai, Ras Al-Khaimah, Ras al Khaimah, Fujairah, Sharjah, Umm Al Quwain, Fujairah, Ruwais, Mina (Port) Zayed, Khalifa Port, Kizad, Port Rashid, Jebel Ali Port, DP WORLD, Jebel Ali Free Zone, Khor Fakkan Container Terminal, Port Rashid, Jebel Ali Port, Mina Kalid Port, Khor Fhakan Port ( Khawr Fakkan, Khawr al-Fakkan ), Sharjah Creek, Ajman, Port of Hamriyah, Mina Zayed Port, Mussafah port, Khalifa Port, Umm al-Nar Port, Um Al Quwain Port, Saqr Port, Port of Fujairah, Dibba Port, Jebel Dhanna, Mina Al Hamriya, Mina Rashid, All United Arab Emirates