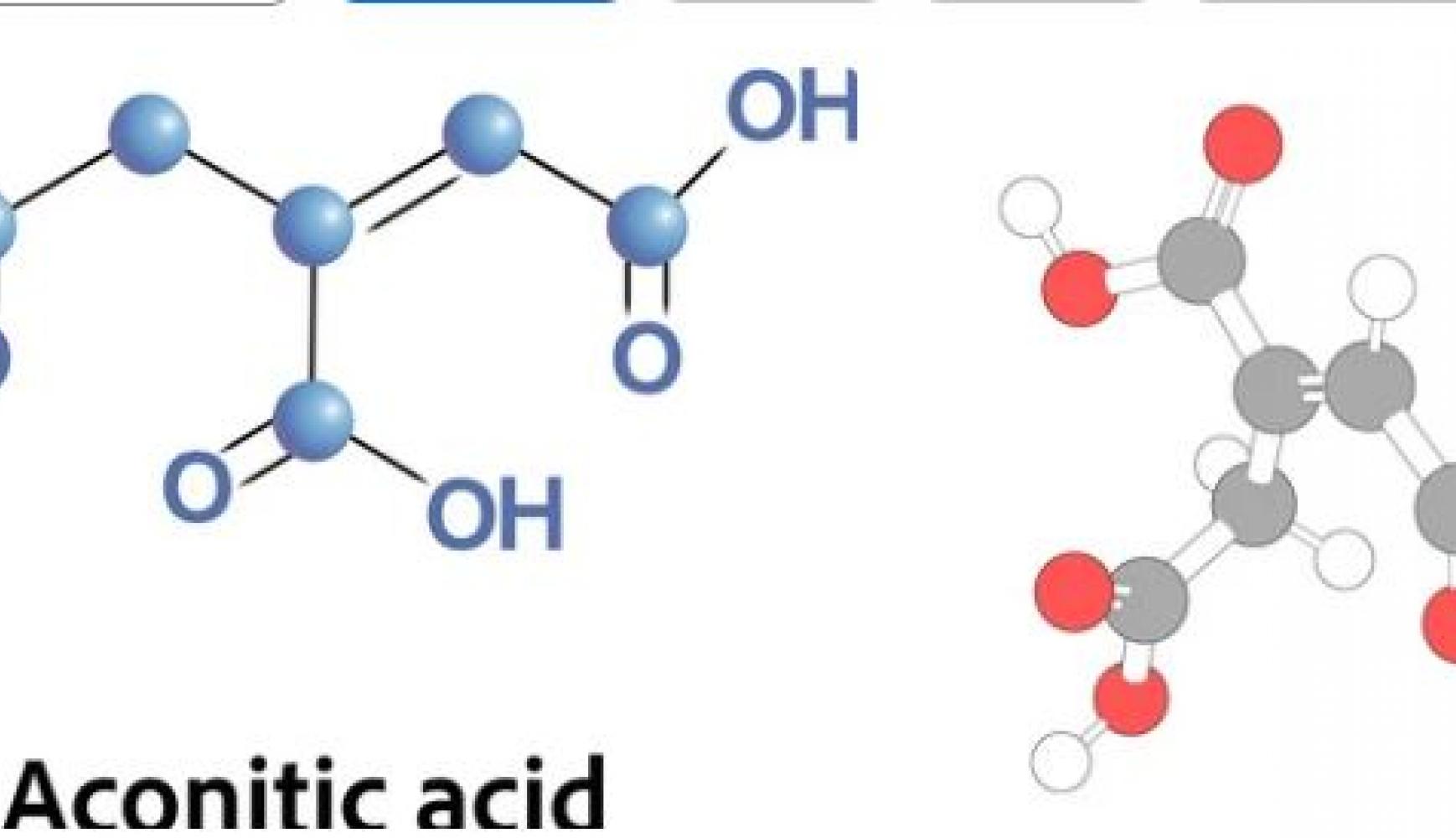 In the expansive landscape of chemical compounds that fuel innovation and industry, Aconitic Acid stands as a remarkable and indispensable component. Leading the charge in supplying, manufacturing, and distributing Aconitic Acid in the UAE is Dubi Chem. Our influence spans far beyond the Middle East, encompassing the world's most influential cities. Dubi Chem has earned a distinguished reputation as a symbol of quality and commitment in the Aconitic Acid market.
 
Product Description:
Aconitic Acid, a naturally occurring organic acid, plays a pivotal role in various biochemical processes. Its versatility extends to multiple industries, making it an essential component in chemical compounds.
Usage and Application:
Aconitic acid, also known as aconitate, is a tricarboxylic acid and an intermediate in the citric acid cycle, which is a fundamental metabolic pathway in all aerobic organisms. While aconitic acid itself doesn't have extensive direct applications outside of its role in cellular respiration, its derivatives and salts do find some use in various sectors. Here are extensive details about the applications and uses of aconitic acid and its derivatives in different fields:
1. Food and Beverage Industry:

Acidulant: Aconitic acid and its salts, such as trisodium aconitate, can be used as acidulants in food and beverage products to provide a sour or acidic taste.

2. Pharmaceutical and Medicinal:

Drug Synthesis: Aconitic acid is used as a starting material in the synthesis of certain pharmaceutical drugs.

3. Agricultural and Horticultural:

Soil Conditioner: Aconitic acid can be used as a soil conditioner to improve soil structure and nutrient availability for plants.

4. Research and Academia:

Laboratory Reagent: Aconitic acid is used as a chemical reagent in laboratory research, particularly in the study of metabolic pathways and the citric acid cycle.

5. Chemical Industry:

Chemical Synthesis: Aconitic acid may be used as an intermediate in the synthesis of various organic chemicals.

6. Water Treatment:

Chelating Agent: Aconitic acid can serve as a chelating agent in water treatment processes to bind with metal ions and improve water quality.

7. Biotechnology:

Biochemical Studies: Aconitic acid plays a role in biochemical studies of cellular respiration and energy production.

8. Environmental Sector:

Environmental Monitoring: Aconitic acid levels in the environment can be monitored as an indicator of metabolic activity in natural ecosystems.

While aconitic acid itself has limited direct applications, its derivatives and salts are used in the food industry as acidulants to impart sourness to various products. Additionally, aconitic acid's role in the citric acid cycle is crucial for cellular energy production and metabolic processes in living organisms.
It's important to note that aconitic acid and its derivatives should be handled and used with care, as excessive consumption or exposure can have adverse health effects. In summary, aconitic acid primarily finds application as an acidulant in the food industry and serves as an intermediate in chemical synthesis and laboratory research related to metabolic pathways.
Product Parameters:
Grade Standard: Pharmaceutical Grade, Food Grade, Industrial Grade.
Certification: ISO Certified, Compliant with relevant industry standards.
Purity: ≥99%.
Appearance: White crystalline powder.
Specifications:
Dubi Chem's Aconitic Acid conforms to stringent global standards, ensuring purity and reliability.
OUR ADVANTAGES
Production Capacity: Our extensive manufacturing capabilities guarantee a seamless supply chain, even during peak demand.
Quality Control: Each batch of Aconitic Acid undergoes meticulous quality checks, maintaining international standards.
Customization: We offer tailored solutions to meet unique client requirements, particularly for bulk orders.
Company Info: Dubi Chem stands as a symbol of trust, innovation, and an unwavering commitment to quality.
Packing: Aconitic Acid is carefully packaged to preserve its integrity during transportation and storage.
PHYSICAL PROPERTIES
Molar Mass: 192.11 g/mol
Melting Point: Approximately 230°C
Solubility: Soluble in water and alcohol.
STORAGE:
Store in a cool, dry place, shielded from direct sunlight and moisture. Ensure the container is tightly sealed.
QUALITY INSPECTION:
Our commitment to quality is upheld through comprehensive inspections conducted by leading laboratories.
Plant Area:
Our state-of-the-art manufacturing facilities in the UAE epitomize technological excellence and environmental responsibility.
Terms of Payment or Quotation & Payment:
We offer flexible payment options tailored to individual client needs. Comprehensive quotations are available upon request.
Nearest Port: Jebel Ali Port, UAE.
Import & Export Mode: Leveraging both air and sea routes to ensure timely and efficient global deliveries.
GLOBAL PRESENCE
Dubi Chem's Aconitic Acid is a trusted name in major global cities, including but not limited to:
Dubai, Abu Dhabi, Sharjah (UAE)
Riyadh, Jeddah (Saudi Arabia)
Doha (Qatar)
Muscat (Oman)
Istanbul (Turkey)
Mumbai (India)
London (UK)
New York (USA) ... and more.
 
Dubi Chem's unwavering commitment to quality, innovation, and customer satisfaction has positioned us as pioneers in the Aconitic Acid industry. Our journey is marked by milestones and successes, all of which reinforce our mission to serve diverse industries with excellence.
To explore collaboration, make inquiries, or place orders, please reach out to us at: Email: mail@dubichem.com.