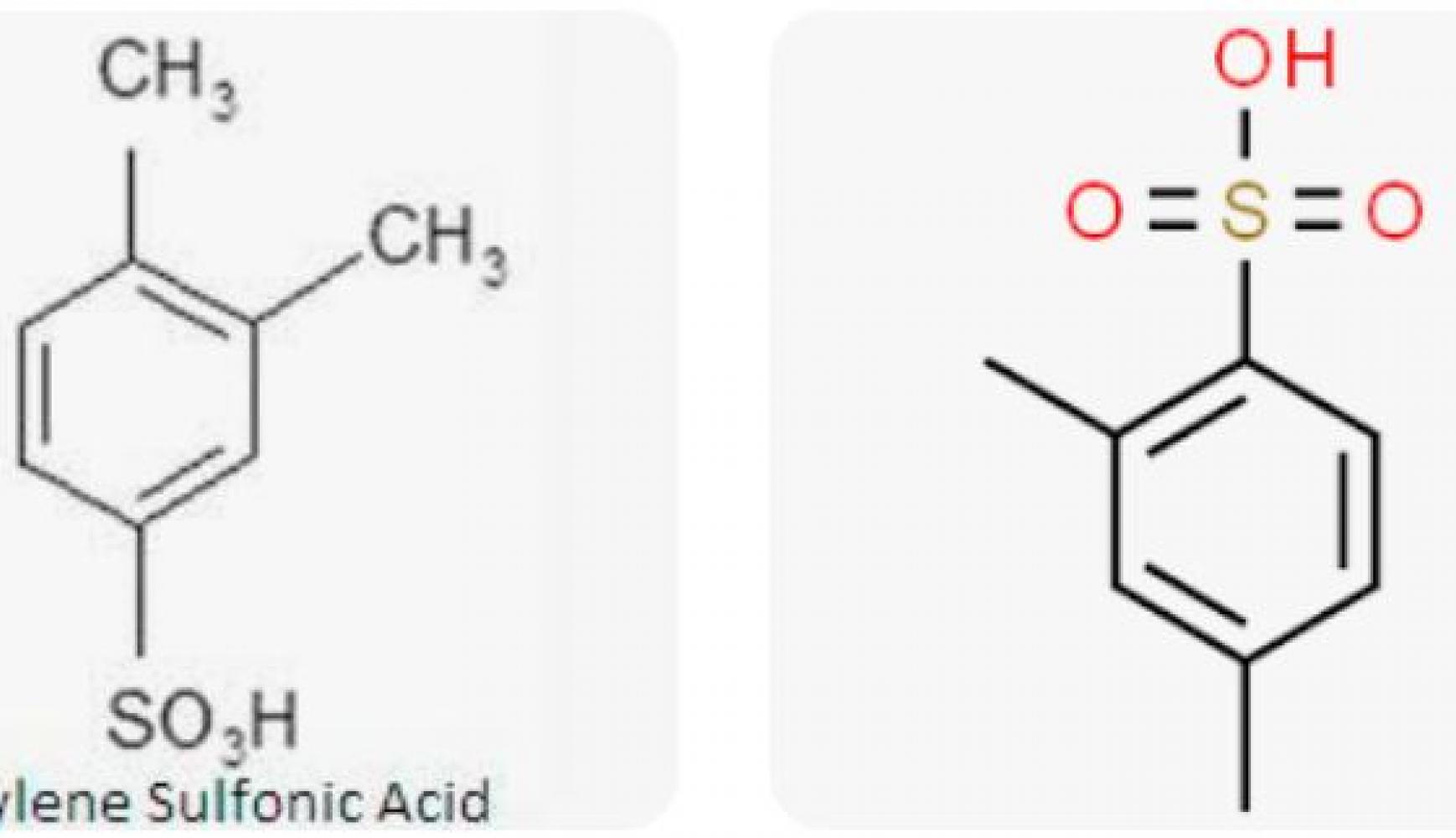 In the ever-evolving realm of chemical industries, Xylene Sulfonic Acid has emerged as a compound of significant importance. Capturing the essence of top-tier quality and unflinching reliability, Dubi Chem asserts its dominant presence as the premier supplier, manufacturer, and distributor of Xylene Sulfonic Acid in the UAE.
Product Details
CAS Number: Variable based on the isomer (For e.g., m-Xylene Sulfonic Acid: 825-90-1)
Formula: Variable based on the isomer (For e.g., C8H10O3S for m-isomer)
Product Description
Xylene Sulfonic Acid, an aromatic sulfonic acid, finds its origins in the sulfonation of xylene. This compound, available in various isomers, has made strides in several industries, acclaimed for its effectiveness and versatility.
Usage & Application
Detergents: Integral in the formulation of various cleaning agents.
Chemical Industry: Used as an intermediate in multiple reactions.
Textile & Dyeing: Important in the desizing process and as a mordant.
Research: For synthesizing novel compounds and as a laboratory reagent.
Product Parameters
Grade Standard: Industrial Grade, Technical Grade
Certification: ISO, HACCP, REACH
Purity: >98%
Appearance: Colorless to pale yellow liquid
Specifications
Molecular Weight: Depending on the isomer.
Boiling Point: Variable based on the isomer.
Solubility: Miscible in water
Our Advantages
Stellar Quality: Our Xylene Sulfonic Acid is the gold standard in purity and efficacy.
Unparalleled Expertise: Harnessing years of industry experience, our team embodies excellence.
Customer-Centric Approach: Every client's need is a priority, ensuring tailor-made solutions.
Production Capacity: 60 tons/month
Quality Control
An unwavering commitment to quality is our mantra. Each batch of Xylene Sulfonic Acid undergoes meticulous testing to ensure it meets our elevated benchmarks.
Customization
Recognizing the diverse needs of our clientele, we offer bespoke solutions ranging from specific formulations to unique packaging needs.
Company Info
Dubi Chem is synonymous with trust, innovation, and unparalleled quality in the UAE's chemical industry. Our legacy, spanning decades, is built on our dedication to superior products and unmatched customer service.
Packing
We offer an array of packaging solutions designed for safe transportation and optimal storage, catering to varied quantities and specific client requirements.
PHYSICAL PROPERTIES
Density: Variable based on the isomer.
Viscosity: Changes with concentration and temperature.
STORAGE
Xylene Sulfonic Acid should be stored in a cool, dry place, away from incompatible substances and extreme temperature fluctuations.
QUALITY INSPECTION
Every batch undergoes thorough internal and external quality checks, reinforcing our promise of delivering nothing but the best.
Plant Area
Our state-of-the-art production facility is a testament to our commitment to innovation, integrating cutting-edge technology with environmental responsibility.
Quotation & Payment Terms
For detailed pricing and flexible payment options, get in touch directly at mail@dubichem.com.
Nearest Port: Jebel Ali Port, Dubai
Import & Export Mode
With a seamless integration of land, sea, and air freight systems, we ensure efficient deliveries to global destinations.
Worldwide Presence
From the heart of the UAE, Dubi Chem has extended its esteemed services to world-renowned cities like:
Riyadh
Doha
Manama
Istanbul
Cairo
Beirut
London
New York
Mumbai
Sydney
Tokyo
Paris
This vast network amplifies our global footprint and the trust bestowed upon us.
 
Dubi Chem isn't just a company; it's a legacy. As the leading supplier of Xylene Sulfonic Acid in the UAE, our commitment isn't limited to products but spans across values of trust, quality, and excellence. Align with us to witness chemical expertise at its zenith.
For detailed inquiries, partnerships, or further insights, reach us at mail@dubichem.com.